Quite a nice morning, gentle breezes and not feeling cold. The port is relatively full this morning, with freigh ferry Muirneag, Coastguard tug Anglian Prince, fuel tanker Border Heather and small freighter Grip Superior all jostling for space. The tanker left half an hour ago, just as I came back from town for a few errands.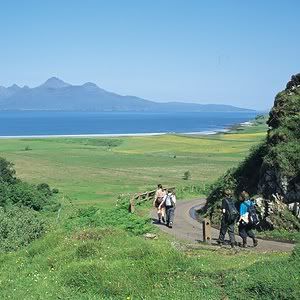 Anyone in the UK should mark
The One Show
on BBC1 at 7pm this evening. The islanders of Eigg, south of Skye, will feature in it. They will demonstrate how life has changed since they got 24/7 power. Until February this year, they relied on diesel generators for their electricity, leading to constraints. Ever since they won control of their island in 1997, the Eiggach have not looked back.